Many times it takes a lot of time to select a dress that provides comfort as well as looks good. The spring season can be the time where you can try various outfits. So, now is the time to choose your look for the upcoming spring season. Every year, there are different spring fashion trends and this year also has something exclusive. Hence, in this post, we are giving you a list of the 10 best spring outfits to try now. The dresses mentioned below in the post are known for their stylish look as well as give high comfort to the wearer.
◙
Printed Palazzo and a plain top
Printed Palazzo pants look very cool and are very comfortable too. This is a must-have outfit for the spring season. When you team it with a plain top and high heels then it will give you a chic look. Therefore, this outfit will go flawlessly with the vibes of the spring season.
◙
Oversized Victorian Sleeves
Victorian-inspired sleeves were very much popular in the 19th century. The oversized sleeves create the illusion of a slimmer waist by adding a feminine touch to your ensemble. For the spring, you can choose a soft color or unleash your inner gothic princess in grey or black color.
◙
Pastel Dress
In the list of spring fashion trends, pastel dress is very popular. In addition to the comfort, this outfit gives you a simple and classic look. Available in different colors, you can choose it according to your choice. Moreover, you can go for this superb outfit to cheer your vein of street styling.
◙
Jumpsuits and Boilersuits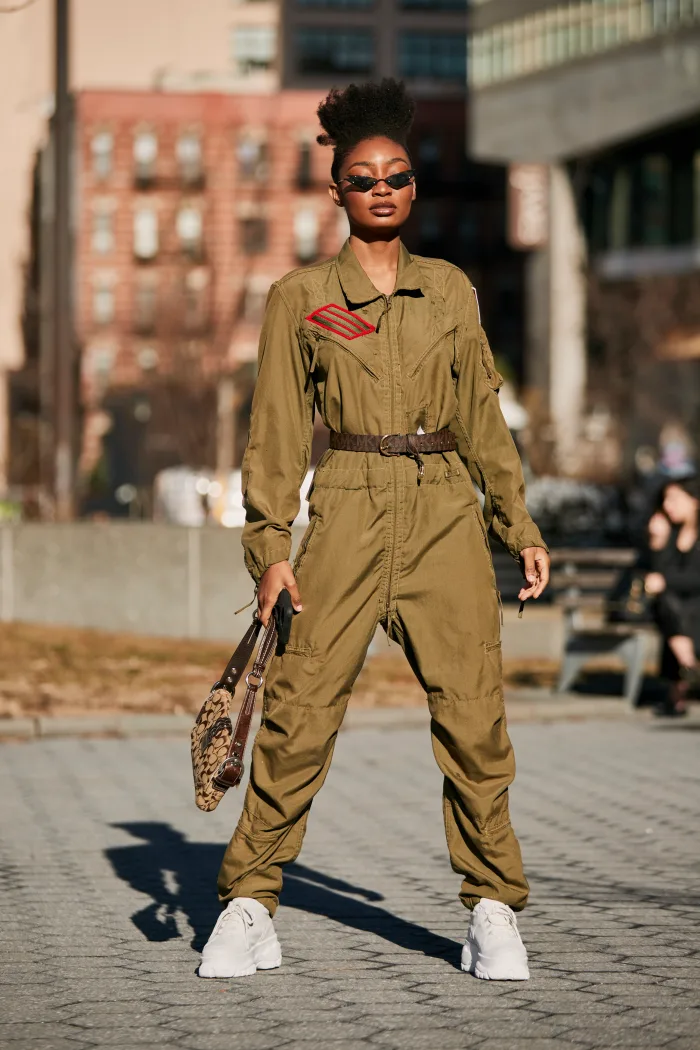 You can elevate your whole wardrobe by rocking a pleather jumpsuit. It is an ideal dress to wear in spring and gives you an amazing casual look. These are versatile and edgy one-pieces that act as a whole outfit from one garment. According to your choice, you can keep it cool in black or unleash your inner Barbie by choosing it in pink color.
◙
Denim Jeans With T-Shirt
Go all out this season with Denim Jeans and a T-Shirt which is an amazing outfit idea for casual meetings too. Many women opt for this outfit because it gives them a stylish look and provides great comfort. In addition to this, complete the look with a belt bag and stunning pair of boots, and you'll rule the world!
◙
Short dress with white knee High Boots
Put a twist on the traditional brown or black boots with the white knee-high boots. Swing it back to the '60s and taking its inspiration from the Youth Revolution this look is a stylish way to elevate your outfit. When you wear it with a patterned short dress or a skirt then it looks awesome. Thus, this spring season, choose this outfit idea for an effortless feel.
◙
Printed Tops and Stockings
Keep your look consistent this spring season with a pair of matching tops and stockings. With this outfit, you can rock a cool pattern with confidence no matter what your style is. This dress will surely bring an eye-pleasing tint to the overall look of a wearer. In addition to this, you can choose the different print tops or streamline your whole ensemble with one tone.
◙
Floral dress with pastel bucket hats
Now, block the sun rays by wearing pastel bucket hats with a floral dress. The gorgeous printed flowers on the dress will you a pretty look that is sure to be well-liked by everyone. It is a wonderful spring outfit idea for those nice breezy days. In addition to this, from a light beige to zesty lemon, the soft shade hats are the most enduring options for a fantastic outfit!
◙
Ruffled Dress with square-toed heels
Square-toed heels when matched with a ruffled dress will add a special touch to your ensemble in an exceptional way. Women of all body sizes can go for this wonderful outfit and also gives you a smart appearance. Furthermore, Ruffled Dress with square-toed heels is a fresh as well as funky way to complete an outfit, especially in the spring season.
◙
Pinafore Dress
Go all out this spring season with a beautiful Pinafore Dress. This is one of the cutest outfits which is open in the back. Generally, Pinafore is a strapless and collarless dress with medium-sized straps on the shoulder. You can wear this dress if you want to showcase your figure and match up it with a turtleneck top to have a chic look. Also, as per your choice, you can mix and match it with various accessories such as hats, sling bags, and others.
#Final Words
That's all about spring fashion trends and we hope that you will surely like the article. Also, you can choose any of the outfits mentioned above to stand out from the crowd this spring season.